SPEAKEASY: LPAC Foundation Fundraiser

-

January 24th @ 8:00 pm
Join the Lancaster Performing Arts Center Foundation for a memorable night of shenanigans at the 5th Annual SPEAKEASY hosted at the Lancaster Performing Arts Center.
The 1920's inspired evening begins at 8:00 p.m. and will feature Casino Gaming, Live Entertainment by Modern Cocktail Society, Hors D'oeuvres, Cash Bar and a Hosted Cigar Lounge all concluding at midnight.
Proceeds to benefit Arts for Youth and the Foundation's Performing Arts Scholarship Program.
Dust off those pearls and fedoras, 1920's attire is encouraged!

All proceeds from this fundraiser will benefit the LPAC Foundation, a 501©(3) nonprofit organization (Federal Tax ID# 95-4221909), which: provides ticket scholarships and bus funding assistance to thousands of Antelope Valley students; as well as funding outreaches and workshops on local school campuses. In addition, the Foundation contributes toward capital and facility enhancements at LPAC, providing a beautiful venue which will continue to serve the community for many years to come.

Tickets are $75 per person and may be purchased online at www.lpac.org, at the LPAC Box Office, by phone at (661) 723-5950, or through any of the LPACF Directors. For more information, please visit www.lpacf.org or contact the LPAC Foundation office at (661) 723-6096 or info@lpacf.org.

Book your hotel for the evening on Destination Lancaster's website: www.destinationlancasterca.org/hotels.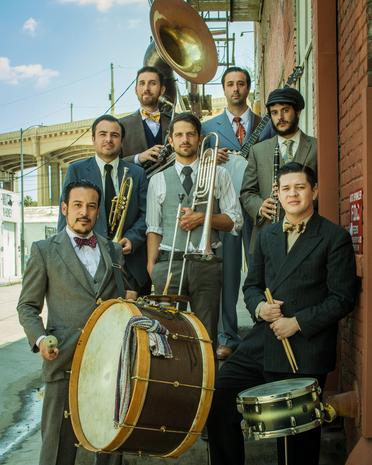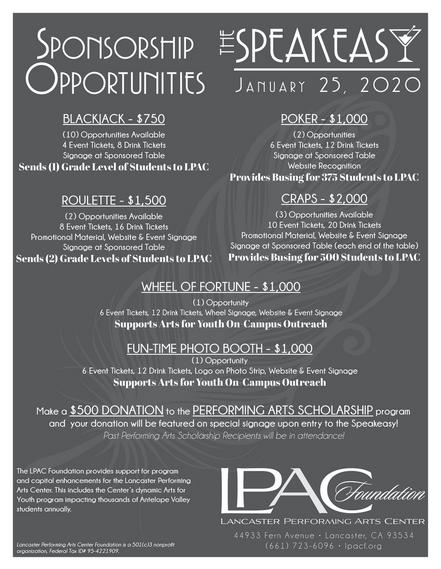 Event Details:
8:00pm - 4:00pm
@
Nellie & Lou Bozigian Family Theatre Lancaster, CA